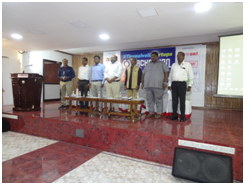 Hackathon first of its kind in our campus and in the down south was organized by the Tirunelvei startups in association with Francis Xavier Engineering College on 9th & 10th March 2019 in the APJ Abdul Kalam Auditorium with the caption of "Idea to Proto type in a Weekend". 28 teams from different parts of Tamil Nadu participated in the event. From our college 9 teams ( IT-2; Mech-2; EEE-1; CSE-2; ECE-2) participated.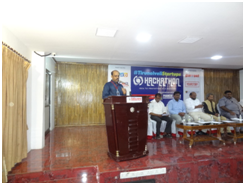 Mr.S.M.Kumar, District Science Officer, District Science Centre, Tirunelveli inaugurated the Hackathon. Mr.C.Arun Babu, Managing Director, SCAD Group of institutions gave the presidential address. Dr.Sakthinathan, Dean, Anna University Regional Centre, Tirunelveli, Dr.K.Jeyakumar, General Manager(Development), SCAD Group of Institutions, Mr.S.Devarajan, Sr.Techniical Director, National Informatics Centre, Tirunelveli and Mr. P.Arumuga Nainar, Technical Director, National Informatics Centre, Tirunelveli gave felicitations.
The technical session started with address by the Mentors Mr. Vijayakumar, CEO, Founder Passion, Coimbatore, Mr.Senthil Nayagam, Co-founder, Agira Tech, Chennai, Mr.Aswath, CEO, Startup Corp, Chennai, Mr.Shivarajha, Founder Native Lead Foundation, Madurai and Mr. Karthick, Co-founder, Annup Interactive Solutions, Chennai. After this session the teams were allowed to present their idea to the audience and the mentors. The teams started their work after the idea presentation.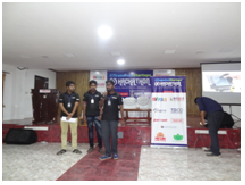 On 10th March 2019 the teams continued their effort to transform their idea to prototype. At the end of the day the teams were allowed to demonstrate their products. The mentors present in the contest appreciated the efforts taken by all the teams and they extended their support to proceed further to fine tune the products developed. Interested participants were allowed to express their feedback. Most of the students appreciated the interest and encouragement shown by the mentors and the steps taken to organize the event successfully. The smart LPG Burner concept developed by the Mechanical Engineering students of Francis Xavier Engineering College won the Social Media Contest. The Hackathon event came to a close with the distribution of certificates to all the participants. Dr.Lourdes Poobala Rayen, the Director of EDC associated with the Tirunelveli Startup group for organizing this event.