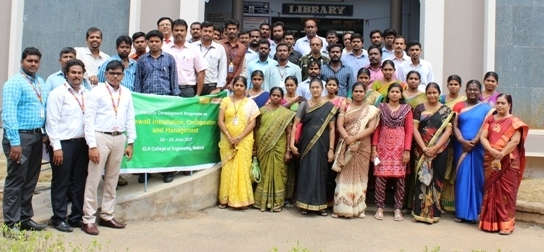 Palo Alto Networks, Inc. is a network and enterprise security company based in Santa Clara, California. Palo Alto Networks has combined network, cloud and endpoint security into a tightly integrated platform that delivers automated prevention against cyber attacks — known and unknown.

Through ICT Academy of India, Our College got the lead to sign a MoU with Palo Alto. In this regard, ICT Academy of India had invited the teaching fraternity of our college to attend the FDP organized by ICT Academy of Tamil Nadu.

The title of the FDP was 'PALO ALTO FIREWALL INSTALLATION, CONFIGUARTION AND MANAGEMENT '. It was held at the KLN College of Engineering and Technology, Madurai from 20-06-2017 to 24-06-2017. Two participants from our College Dr.G.Aravind Swaminathan, Associate Professor and Mr.Manikandan, System Admin, attended the FDP. The trainer for the FDP was Mr.Jegadeesan, ICT Academy of Tamil Nadu.

The FDP was conducted for 5 days through Mr.Jegadessan, the trainer of ICT Academy of Tamil Nadu. The FDP was attended by 30 participants from the Engineering and Arts Colleges of South Tamil Nadu.