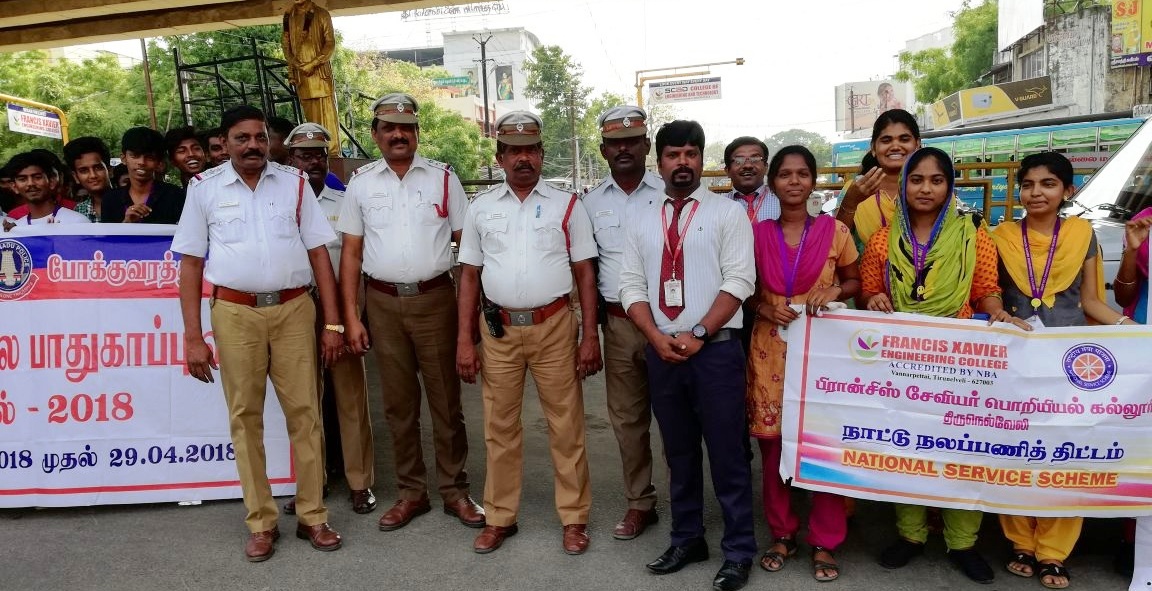 With the great perspective in acknowledging the importance of Road Safety, in line with the observance of Road Safety Week, Regional Transport Office organized a mega programme at Francis Xavier Engineering College, Tirunelveli in association with the National Service Scheme Unit of the college on 25th April 2018. Around 250 students from the Department of Science and Humanities participated in the event. Dr. Neethimanickam Principal-in-charge welcomed the gathering. Mrs. Sasi, Regional Transport Officer, Tirunelveli was the chiefguest.

In her address she talked on the importance of following the traffic rules and educated the participants on how to use roads and the purpose of white and yellow lines on the road. She advised the youngsters to avoid rash driving and overtaking in turnings etc. The participants took an oath to follow the traffic rules. Pamphlets on road safety were distributed to make the participants know more about Road safety in detail. Mr. Sasi Chidambaram, Traffic Inspector, Tirunelveli Junction, Mr. Manikandandan, Motor Vehicle Inspector, Mr. Abraham, Traffic Inspector, Mr. Nainar Mohammed, Driving School Association PRO were present and inspired the students to understand the importance of Road Safety Week.

Later, the students participated in the rally from FXEC to Vannarpettai Roundana and distributed pamphlets to the general public to create awareness on Road Safety. Mr. Krishna Kumar, Administrative Officer, Mr. Ignatius Xavier, GM (Finance) SCAD, Mr, Ayyanar Raja, HOD S&H were present. The programme was coordinated by Mr. Sathish Kumar, AP/ English, NSS Programme Officer.