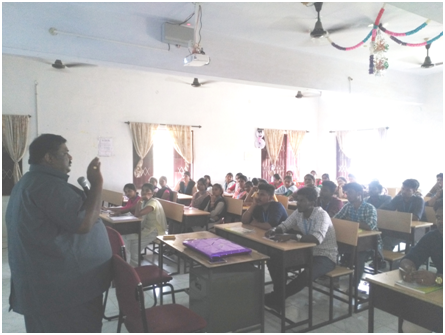 As a part of Entrepreneurship Awareness Camp, Dr.K.Jeyakumar, the General Manager (Development), FXEC, Tirunelveli spoke on "Creativity and Innovation in Business" to MBA students in the Department of Management Studies on 28th Jan 2019 at 11.00 a.m. The guest speaker started his speech by asking the students about the Peter F Drucker's quote "Management is doing things right; Leadership is doing the right things". He highlighted the importance of leadership in business. He presented the photos of the leading trend setters in business like Dr.Karsanbhai Khodidas Patel, the founder of Nirma group of Companies which engages in detergents, soaps and cosmetics, Mr.Dhirubhai Hirachand Ambani, the Indian business tycoon who founded Reliance Industries in Mumbai, Mr.Lakshmi Niwas Mittal, an Indian Steel Magnet and Chairman and CEO of Arcelor Mittal, the world's largest steel making company, Mr.Subash Candra, an Indian Billionaire Zee TV Media Baron engaged in Media & Entertainment, education, and Financial Services, Mr.Varghese Kurian, the 'Father of the White Revolution' in India, a social entrepreneur and the world's largest agricultural dairy development programme, Mr.N.R.Narayana Murthy, an Indian IT industrialist and the co-founder of Infosys, Mr.Shiv Nadar, an Industrialist and Philanthropist, founder chairman of HCL and Mr.C.K.Reganathan, Chairman and Managing Director, CavinKare Private Limited dealing with personal care, dairy, snacks, beverages and Saloons.
Moreover, he highlighted the fact that the age is not a matter for entering in to the business. In support of this he listed number of young successful entrepreneurs like Ritesh Agarwal, 21 year old founder of hotel listing startup Oyo Rooms in New Delhi, Mr.Bhavish Aggarwal, the founder of Ola (formerly Ola Cabs), Mr.Vijay Shekhar Sharma, the founder of Paytm and Azim Hashim Premji an Indian Business Tycoon, investor and Philanthropist, the Chairman of Wipro Limited.
Students were highly impressed by the way he presented all the matters connecting the creativity and innovations in business. In fact, it was an interesting session students were interacted very much with the guest speaker and gathered more information. The students were very much positive towards opting entrepreneurship after their studies.