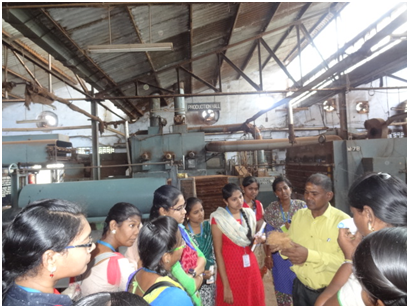 The participants (MBA) of Entrepreneurship Awareness Camp, were taken to SIDCO Industrial Estate, Pettai, Tirunelveli on 23.01.2019 at 10.30 a.m. The participants visited the Apple Cookware unit, SIDCO Industrial Estate, Pettai, Tirunelveli. It manufacture variety of Cook wares. The products produced by the Apple Cookware unit are Aluminum cookwares, milk boiler, puttukudam, idly cooker, pressure cooker and hard anodized pressure cooker. The manufactured cook wares are being distributed in Tamil Nadu and Kerala. In addition to this the products are being exported to UAE. It was very much interesting to see the manufacture of cookwares starting from the Aluminum sheet to the product. During the visit the students interacted with the workers and gathered lot of information about the production process.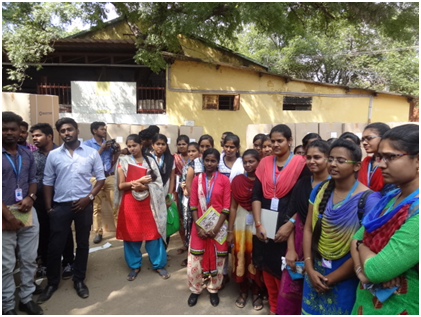 The participants after visiting the Apple Cookware unit then visited the Non Stick Kitchen utensils unit situated in the SIDCO Industrial Estate. In the Non stick Kitchen Utensils unit various kitchen utensils were produced. The participants saw the manufacturing process of non stick utensils like Appam Pan, Deep Kadai, Fry Pan, Paniyaram Pan, Dum Biriyani pot and stainless steel food server. The participants saw the packing and loading of kitchen cookwares for the export in the containers. Participants gathered lot of information from the workers involved in the manufacture of Cookwares and distribution including export of cookwares.
The participants visited Sri Royal Industry in the SIDCO Industrial Estate, Pettai. It manufactures the Aluminum plates from raw Aluminum blocks. In this unit the used Aluminum cookwares and other Aluminum scraps were collected and recycled to manufacture the Aluminum blocks. The scraps were melted in a furnace and Aluminum blocks are being created. The molten Aluminum is used for making sheets of different sizes.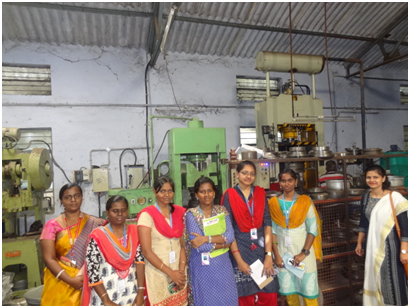 The participants visited Coir Hortitech, Manufacturers of Coir, Foam Mattresses situated in SIDCO Industrial Estate, Pettai. This unit is a very old unit started functioning since 1960. It manufactures Rubberised Coir and Foam Mattresses, Pillows and Cushions. The manager of the unit explained each and every stage in the manufacturing process. Students were very much impressed and moreover, really it was interesting to see the process of manufacture and most of the student participants asked many questions about the process and the distribution of the mattresses.