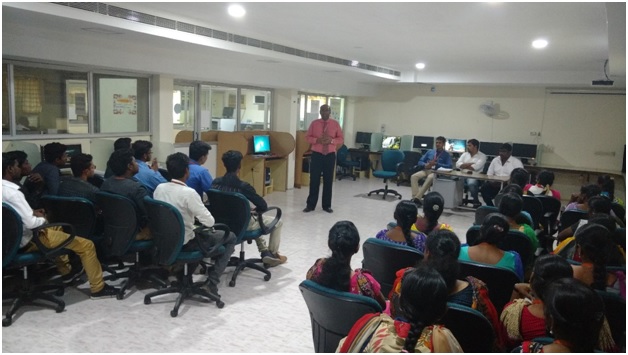 Alpha Business Solutions, Tirunelveli is a startup Company which is into CMMI Evaluation Software, Web Site Design, Android Software Development Services and Business Intelligence Software Development Services.
Mr.Chelliah, an alumnus of CSE Department from 2013 batch is the CEO of this Company. He and his recruitment team comprising of another alumnus Mr.Livin Meshach conducted the recruitment for the students of FXEC on 04-03-2018.
In continuation with the recruitment drive the recruitment team comprising of the Mr.Chelliah and Mr.Livin Meshach the alumnus of CSE Department from 2013 batch interacted with their juniors of the Final Year on 06-03-2018 and gave the feedback about their performance in the interview. They also gave tips regarding the interview facing techniques and they also to be career oriented.
They also interacted with the Pre-Final Year students and provided tips to develop their Employability skills such as Technical Skills, Communication Skills and Soft Skills.
The Alumni Coordintor Mr.E.Manohar and the Placement Coordinator Dr.G.Aravind Swaminathan of the Department had coordinated the event. Dr.S.Balaji had rendered his guidance for this event with the support of Dr.V.Ilangovan the Principal of the College.